SAT : Scholastic Aptitude Test
Scholastic Aptitude Test, SAT is conducted by The College Board. Kindly check the official website www.collegeboard.org for latest updates.

Scholastic Aptitude Test (SAT) is amongst the most preferred examination in the United States for school students looking to seek admission in colleges or graduate programs. SAT evaluates mathematical, writing and reading prowess of a candidate, and it is designed to test the candidate's ability to solve/analyze problems.
SAT is conducted by The College Board, a not-for-profit organization that connects students to college success and opportunity. Founded in 1900, The College Board today has membership association with over 6,000 world's leading educational institutions, and each year it helps more than seven million students prepare for a successful transition to college through programs and services in college readiness and college success — including the SAT and the Advanced Placement Program.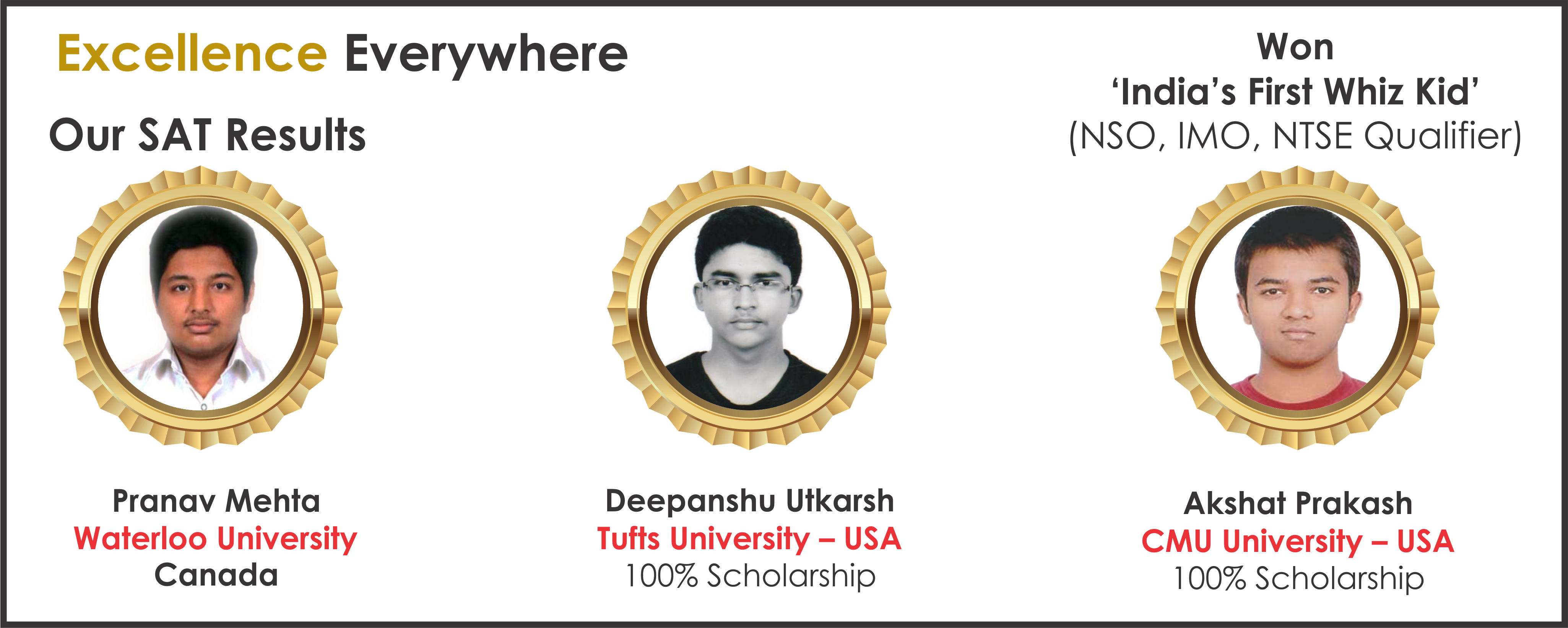 Exam Pattern : SAT is comprised of two sections: English and Math. English section is bifurcated in two sections – one is focused on Reading and the other is focused on Writing & Language. SAT also includes an optional Essay. Some schools may require the Essay, so we recommend that you write the Essay.
Reading

52 multiple–choice questions in 65 minutes
Passages or pairs of passages (literature, historical documents, social sciences, and natural sciences)

Writing & Language

44 multiple–choice questions in 35 minutes
Grammar, vocabulary in context, and editing skills

Math

58 multiple–choice questions in 80 minutes
Algebra, geometry, and some trigonometry

Essay (Optional)

1 essay in 50 minutes
Read a passage and explain how the author builds a persuasive argument
For all the SAT aspirants studying in class VII, VIII, IX or X, we recommend that you write our SEAT test and gaze your own potential, aptitude and scholastic abilities. Study Vault will be conducting Scholarship-cum-Entrance-Aptitude Test (SEAT) twice every year.
SEAT is aimed to give a unique experience to the student in order to observe whatever the student has learnt till now and to know what best he/she is capable of currently. SEAT will have questions that will check the aptitude, potential, scholastic abilities and the personality of the student. Once a student joins our program, it will be our endeavour to analyze, coach and make possible to take the student to the best institution in India and the world including IIT, NIT, AIIMS, MIT, and Stanford etc. Here is the sample report of the kind of analyse SEAT does.