National Science Olympiad / International Mathematics Olympiad
National Science Olympiad (NSO) and International Mathematics Olympiad (IMO) are conducted by Science Olympiad Foundation. Kindly check the official website www.sofworld.org for latest updates.

National Science Olympiad and International Mathematics Olympiad are annual scholarship exams conducted by Science Olympiad Foundation and aims at cultivating scientific reasoning and logical ability among school students. Students can judge themselves academically at four different levels - within the school, at city level, at zonal / national level and at International level. Each student is provided a Student Performance Report (SPR) which analyses the strong and weak areas of the student and gives a detailed performance comparison of the student vis-à-vis other students at school, state and International level. Analysis of the student's past 8 years' performance is also provided.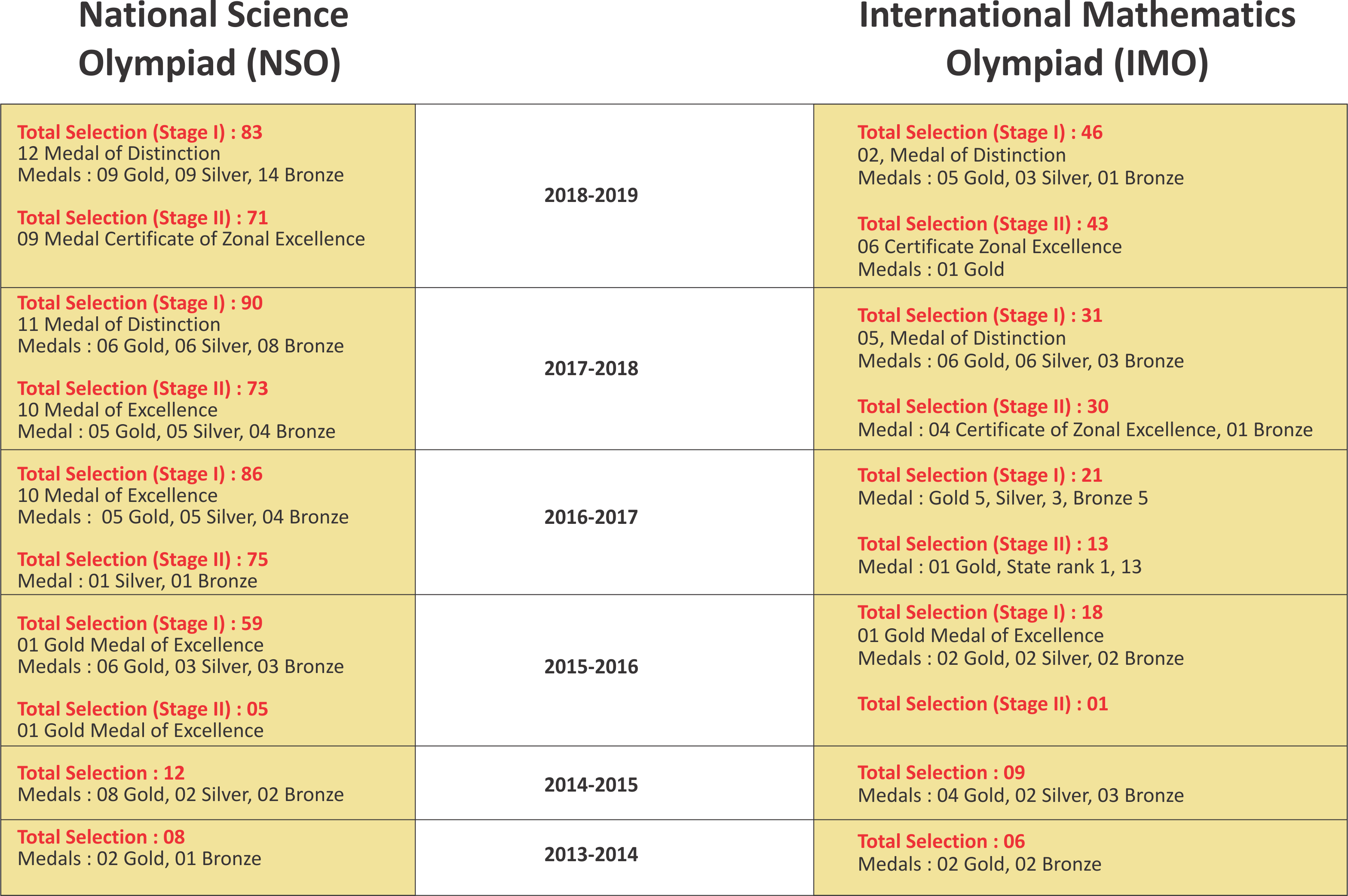 Prizes are announced annually and include cash awards, medals, gifts, certificates etc. Selective international toppers from each class are awarded at a grand prize distribution ceremony held in Delhi, presided over by eminent personalities. Prizes for zonal winners and school winners are sent to their respective schools. For the year 2017-18, a sum of Rs. 15.2 crores will be incurred towards awards, felicitations, scholarships etc.
Both NSO & IMO are conducted at two levels. Any students of classes 1st to 12th is eligible to appear for the 1st level Olympiads. Students who qualify for the 2nd level exam include:
Top 5% of students' class wise, who appear for the 1st level exam,
Zone wise top 25 rank holders class wise, and
Class toppers from each participating school where at least 10 students from a class appear in the exam & scores 50% qualifying marks. In case registration is received section wise, top 3 rank holders, irrespective of section will qualify for the 2nd level. For section wise registrations, winner(s) of gold medal may not necessarily qualify for the second level.
Students from classes 1 and 2 are not required to appear for the 2nd level exam and are ranked based on their performance in the first level exam.
For all the NSO / IMO aspirants studying in class VII, VIII, IX or X, we recommend that you write our SEAT test and gaze your own potential, aptitude and scholastic abilities. Study Vault will be conducting Scholarship-cum-Entrance-Aptitude Test (SEAT) twice every year.
SEAT is aimed to give a unique experience to the student in order to observe whatever the student has learnt till now and to know what best he/she is capable of currently. SEAT will have questions that will check the aptitude, potential, scholastic abilities and the personality of the student. Once a student joins our program, it will be our endeavour to analyze, coach and make possible to take the student to the best institution in India and the world including IIT, NIT, AIIMS, MIT, and Stanford etc. Here is the sample report of the kind of analyse SEAT does.